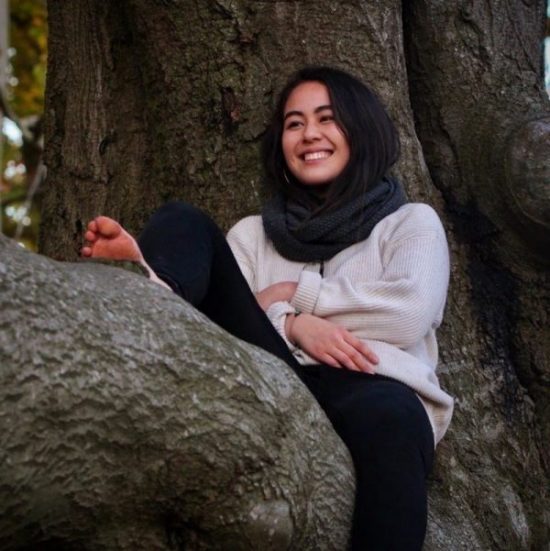 About
| | |
| --- | --- |
| Grad Year | 2019 |
| Resource Specialization | Environment and Sustainability |
| Region Specialization | |
| Current Job Title | Master's Candidate |
| Current Employer | University of Oxford |
| Current Location | Oxford, Oxfordshire, UK |
| Hometown | Vancouver, British Columbia |
"Working in diverse, localized contexts has expanded my understanding of the importance of preserving culture and tradition, alongside policy and development."
What experiences did you find to be the most enriching during your time at UBC?
Some of my favourite experiences during my time at UBC include working at the UBC Farm and participating in several volunteer initiatives, including the Sustainability Ambassadors program, UBC Sprouts, and the Journal of International Affairs.
The UBC Farm provided a unique opportunity for hands-on learning. As a WorkLearn student, I was able to understand and apply what I had learned in class about organic food production and seed processing.
As a Sustainability Ambassador for the UBC Sustainability Initiative, I co-led an educational fair showcasing student and community sustainability initiatives that focused on building a more equitable, livable, and inclusive community.
UBC Sprouts is a volunteer and student-led organization that provides healthy, affordable, and sustainably produced food to the community. As the Director of the Community Eats program, I led an initiative seeking to reduce and redistribute edible food waste by providing a healthy, affordable meal once a week. The following year I took on the role of Vice President, where I supported the Executive Board in carrying out the club's several initiatives, including two cafes, a weekly by-donation meal service, a weekly local and organic vegetable subscription box, and food education workshops.
As an editor for the Journal of International Affairs, I became familiar with the rewarding process of reviewing and selecting academic papers written by students from diverse faculties and departments.
Where did you travel to for your international experience requirement?
I had the opportunity to travel to Indonesia for a UBC Go Global Seminar, where I participated in an Impact Evaluation Analytics course at Bogor Agricultural University. My project team evaluated the Indonesian Environmental Service Agency's waste management program, which gave us experience with collecting data and reporting findings to multiple stakeholders.
What does your current position entail?
Next fall, I will be joining the MSc in Environmental Change and Management program at the University of Oxford. My interdisciplinary education, community-based volunteer initiatives, and research projects have informed my understanding of climate issues and my desire to contribute to a sustainable future. Ultimately, I look forward to working with government, international agencies, or NGOs, such as the Department of the Environment in Canada or the Food and Agriculture Organization of the United Nations. My goal is to be an effective, well-informed leader creating equitable, environmental change.