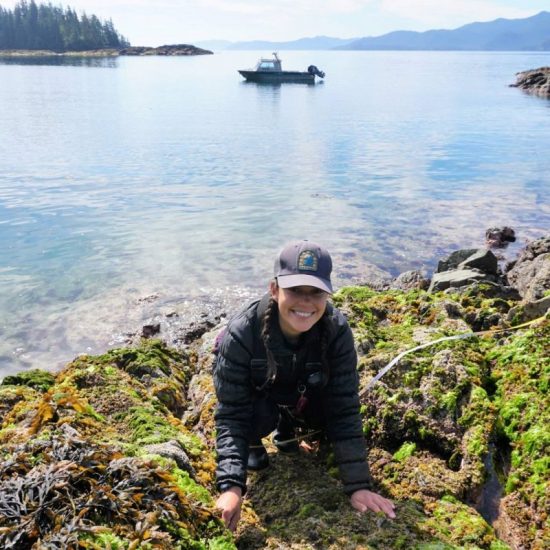 About
| | |
| --- | --- |
| Grad Year | 2018 |
| Resource Specialization | Marine Biology/Conservation |
| Region Specialization | Indigenous Northwest Pacific |
| Current Job Title | Resource Management Technician |
| Current Employer | Gwaii Haanas |
| Current Location | Skidegate, Haida Gwaii |
| Hometown | Skidegate, Haida Gwaii |
"Everyone in the program is there because they have found their piece of the world they want to make change in. The different things people choose to study once they have this flexibility is so interesting and inspiring, and the connections made there are so valuable."
Why did you choose the resource/region specializations that you did?
I'm from Haida Gwaii, an archipelago on the north coast of BC. I grew up on the ocean, connected to my ancestor's relationship with the land and water, and our generation's responsibility to keep that alive and protected. I went to school to do something I could bring back home. I knew I wanted to combine marine biology with topics in Indigenous studies like land and water rights, law, traditional ecological knowledge, resource management, and governance.
Where did you travel to for your international experience requirement?
I didn't actually travel internationally, because I chose home for my region. Instead, I went to Bamfield Marine Science Centre on Vancouver Island for the Fall Semester in Marine Biology, which was an amazing way to learn biology in am immersive field setting and my favourite semester of my undergrad. I completed my language requirement by learning my own language, Xaayda Kil (Haida language), which is endangered, from elders at home.
What do you enjoy and what do you find challenging about your current position?
I work on the marine monitoring team as a field technician, so I run different marine surveys in the summer season, travelling by boat in isolated areas. I'm responsible for carrying out the field data collection, field shift logistics, and data management. I work year-round, so in the off-season, I work on a variety of projects, including project planning, data analysis, traditional ecological knowledge work in the community, community engagement. I am supported to develop my interests, and I learn so much, scientifically and otherwise, on the job. I get to do cool, interesting, meaningful science in an Indigenous context, working in remote places most people would never get to visit.