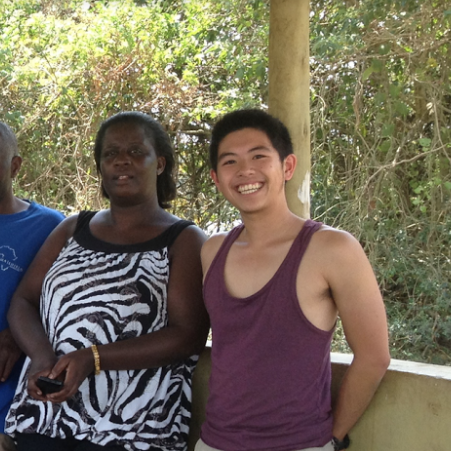 About
| | |
| --- | --- |
| Resource Specialization | Psychology, Sociology, Environmental Science |
| Region Specialization | The Americas |
| International Experience(s) | Non-profit work in Uganda |
"I love GRS because it allows you to expand your curiosity to understand the greater context of the issues you are interested in so that you have a more holistic view."
Why did you choose the GRS specialization that you did?
I'm really interested in people, specifically how individuals can use their individual strengths and interests to address global issues and how we can also do so as a community. I strongly believe that we must all be engaged with these issues and that we must all collaborate to address these challenges at a local, community and global level. I have taken a mix of psychology, sociology, environmental science and economic courses to try to understand the human aspects of these macro issues. In addition, I am interested in North America as a region because I feel that a "developed" country has a greater power in the international playing field, but also a great responsibility to take ownership of our own actions first.
I love GRS because it allows me to explore new concepts and questions that arise as you learn new things throughout your time as an undergraduate student. It allows you to expand your curiosity to understand the greater context of the issues you are interested in so that you have a more holistic view. I am also just blown away by the talent and ways of thinking that my fellow GRSers bring to our learning community. It creates a unique experience of wondering and growth that I am so grateful to be part of.
What was your international experience and what did you learn from it?
As part of my international experience with UBC's Office for Regional and International Community Engagement, I had the opportunity to work with a microfinance organization in Uganda called Salama SHIELD (Sustaining Healthy Initiatives Enabling Local Development). The organization provides micro-loads to groups of woman around the city of Lyantonde so that the women would have the capital to start their own business. In doing so, Salama SHIELD builds relationships with the community members and helps with their local development and empowerment of community members. As student interns, we helped to support the assets that the organization currently by helping to create an excel sheet that would help the organization more effectively record, store and retrieve data of the loans. We were also about to go to the field to hear from the group of woman about the benefits and challenges of being part of the microfinance program.
This placement helped me understand the powerful work that is and can be done at a grassroots level by members of a community. I did not only see this within the organization, but also with the work in my host family (see photo below). Everyone in my host family is beautiful and they all contribute to the community in their own way. And although on the other side of the world, they inspire to this very day.